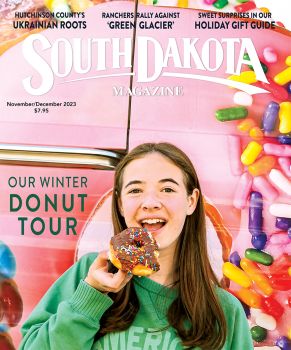 Subscriptions to South Dakota Magazine make great gifts!
Subscribe today — 1 year (6 issues) is just $29!

Go Sports!
Feb 4, 2016
By Fran Hill
Go sports!
Do the thing!
Score the points!
Go team!
That is about the extent of my athletic literacy. I am sports dumb.
But I have been told that there is some big event in the near future where food can be just as important as the game. I like to eat. This could be the kind of sport for me.
Nachos and wings and chili and pizza. Sub sandwiches and seven-layer dip and deviled eggs. Vegetable trays and onion dip and cocktail sausages. Some sports thing on the big screen. I thoroughly enjoy the variety of snacks and nibbles of a good game spread. Therefore, I tolerate sports for the food. Go team!
Recently, I noticed a cheesy dip that looked quite sporting and included a healthy dose of vegetables. I was game for Cheesy Butternut Squash Dip. Chipotle peppers add a spicy heat to creamy squash blended with melty cheese. Dunking a tortilla chip into a vat of this warm dip is delicious and healthy in a way that plain cheese dip can never be. It is a touchdown. Score!
---

Cheesy Butternut Squash Dip
(Adapted from Cooking Light)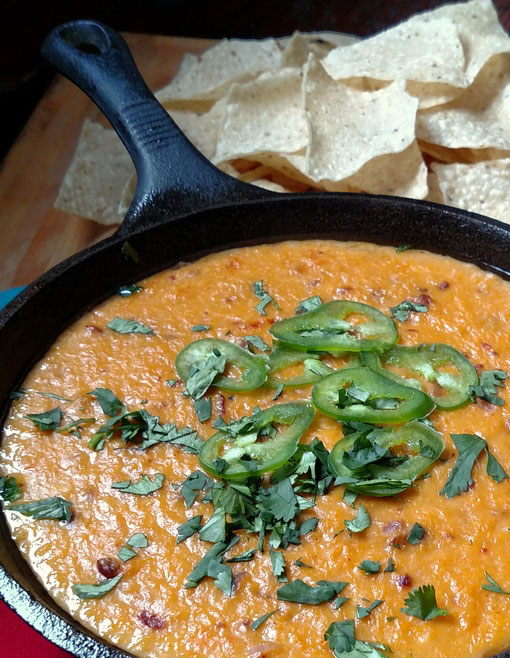 Chipotle pepper adds a spicy kick to creamy, cheesy butternut squash dip. Photo by Fran Hill.

1 teaspoon olive oil

3/4 cup red onion, diced

1 1/2 tablespoon flour

1 1/2 cups roasted butternut squash puree (about half of a small to medium butternut squash, roasted and mashed)

1/2-1 cup chicken broth

1 tablespoon chipotle chile in adobo sauce (more or less according to your heat tolerance)

3/4 cup shredded mozzarella cheese (freshly grated melts better than the prepackaged shredded)

3/4 cup shredded Mexican blend cheese

Fresh cilantro, chopped

Jalapeño, sliced

Tortilla chips


Heat oil in a medium cast-iron skillet. Add red onion and cook until softened. Add flour and cook, stirring constantly about 2 minutes. Add squash, chipotle and about 1/4 cup of broth; bring to a boil. Reduce heat and add cheeses, stirring constantly until smooth and cheeses are melted. Add additional broth if needed to improve smooth texture.
Preheat broiler to high. Slide pan of dip under broiler for 2 minutes, until browned and bubbly.
Top with cilantro and jalapeño slices. Serve with tortilla chips. (Serves 10 1/4 cup portions)

Fran Hill has been blogging about food at On My Plate since October of 2006. She, her husband and their three dogs ranch near Colome.