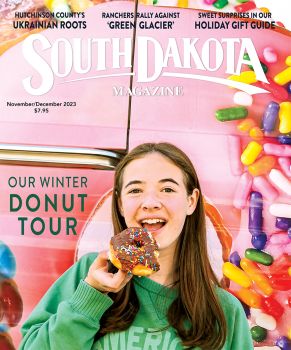 Subscriptions to South Dakota Magazine make great gifts!
Subscribe today — 1 year (6 issues) is just $29!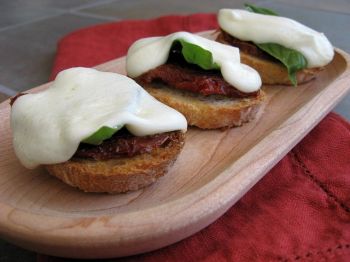 Delicious Pyromania
Jun 26, 2013
I love a good fire and believe that no summer patio gathering is complete without flames in the fire pit, regardless of the temperatures. The smoky smell of burning wood takes me back to the fun times of camping and just says party to me. My guests and I circle around and stare into the crackling fire as we unwind and chat. Always, I will hop up with my can of lighter fluid when I don't think that the flames are high enough and give the coals a squirt. There are giggles from my friends as Hubs, a member of the local volunteer fire department, scolds me. The fire pit truly brings out the pyromaniac in me.
The open fire also inspires me to get creative with party appetizers. Everyone loves a sweet s'more for dessert. What about a savory one to get the party started? Mozzarella s'mores are a flavorful, gooey, melted bite of love from the fire pit. The sun-dried tomatoes, fresh basil cut from my herb garden, and the garlic rubbed toasts are held together by the flame roasted cheese. Who doesn't like melted cheese? Who doesn't like playing with fire? Mozzarella s'mores are a pyromaniac's dream on my plate.
---
Mozzarella S'mores
Adapted from epicurious.com
12 sun-dried tomatoes
8 ounces FRESH mozzarella cheese, cut into 12 pieces
12 FRESH basil leaves
12 slices baguette, toasted (or grilled) and rubbed with garlic
Set up the fire pit with a roaring fire. Allow it to burn down to some flames and mostly hot coals.
Arrange the tomatoes, mozzarella, basil leaves and grilled bread on a platter for self-serving this make-it-yourself appetizer.
Skewer a hunk of mozzarella. Roast it over the fire, turning the skewer to evenly melt the cheese. When the mozzarella begins to melt and brown after 1 to 2 minutes, sandwich the melted cheese between a slice of toasted bread and a slice of sun-dried tomato layered with a basil leaf to pull it off the skewer…much in the same way graham crackers and chocolate are used to pull the marshmallow off the skewer with traditional s'mores. DO NOT attempt to eat the melted cheese directly off the hot skewer, unless you like major burns to your mouth and lips.
NOTE: Sun-dried tomatoes come in two forms: oil-packed and dried. Oil-packed tomatoes just need to be drained before you use them. The dried kind must be soaked in water and marinated in olive oil. To reconstitute the tomatoes, place them in a bowl and add boiling water to cover. Let soak for 1 hour. Drain the tomatoes well and blot dry. Toss with the olive oil.
Fran Hill has been blogging about food at On My Plate since October of 2006. She, her husband and their two dogs ranch near Colome.