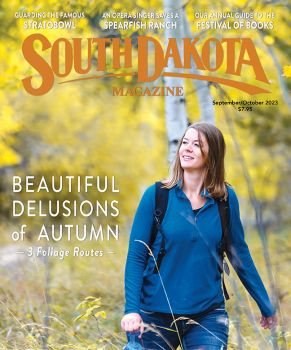 Subscriptions to South Dakota Magazine make great gifts!
Subscribe today — 1 year (6 issues) is just $29!

Swimming Upstream
Dec 22, 2016
By Fran Hill
This year.
*sigh*
Am I right?
Even before politics got super crazy and the world got weirder, I was struggling with 2016. It has been the year that I can't keep up. Sure, I did have a major surgery half way through, and recovery wasn't exactly the piece of cake that I assumed it would be. But I can't blame everything on health issues. Seriously. I just can't keep up.
I haven't given up. I plan. I try. I trudge ahead. I struggle. I fail. Nothing goes according to schedule. I have cut back and lessened my expectations. Still, I fall behind.
I feel like I am swimming upstream all the time. Every little success is punctuated with an, "Oh, crap. I forgot about that other thing."
But hey. Salmon swim upstream, and they make it. In fact, they make it especially delicious when they are smoked, thinly sliced and paired with herbed cream cheese. I may not be keeping pace with everything, but my appetizer game is still strong. The recipe for Smoked Salmon Stacks is part of my arsenal of simple nibbles that come together easily and dare my guests to be impressed. If I have to swim upstream, I am in good company.
---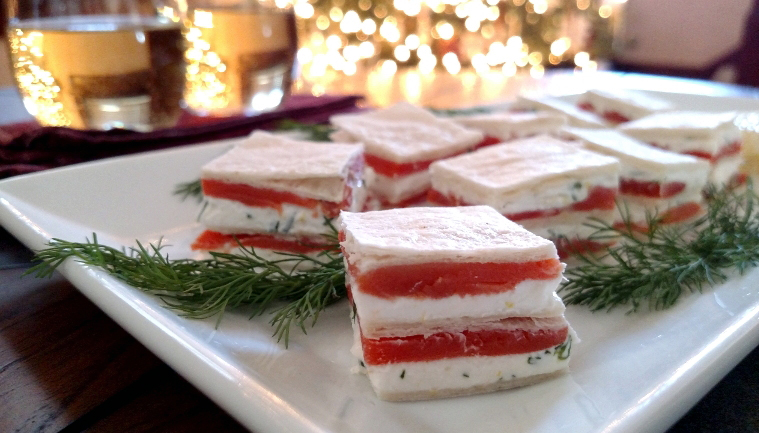 Smoked Salmon Stacks are a simple appetizer and perfect for a New Year's Eve party.
Smoked Salmon Stacks
8 ounces cream cheese, softened
1-2 tablespoons of sour cream
1 garlic clove, minced
Zest of one lemon
3-4 tablespoons fresh dill, chopped
Pinch of salt
6 large flour tortillas
1 tablespoon spreadable butter
12 ounces thinly sliced smoked salmon
Combine cream cheese, 1 tablespoon sour cream, minced garlic, lemon zest, dill and salt. If the mixture is too stiff to easily spread, add the other tablespoon of sour cream. (This will depend on the brand and temperature of the cream cheese.)
Spread one flour tortilla with one-fourth of the cream cheese mixture. (If you are cutting into squares for presentation, you don't need to spread cream cheese to the edges. But I do, and the trimmings become a snack for the cook.) Arrange a single layer of smoked salmon over the cream cheese. Spread a second flour tortilla with a very thin layer of butter. (This is the glue to hold the stack together, but you don't need much. These aren't Butter Salmon Stacks.) Place that tortilla butter side down over the salmon. Spread another layer of one-fourth of the cream cheese mixture. Again, a thin layer of salmon over that. Finish with another lightly buttered tortilla placed over the salmon.
Repeat with the remaining ingredients for a second salmon/tortilla stack.
Wrap each stack in plastic wrap and chill for at least 4 hours (and up to 72 hours). The filling should set and become firm enough to easily cut into squares. (I used a ruler and cut 1-inch strips that were then sliced into 1-inch squares.) Serve speared with toothpicks and lemon wedges on the side, if desired.
Fran Hill has been blogging about food at On My Plate since October of 2006. She, her husband and their three dogs ranch near Colome.