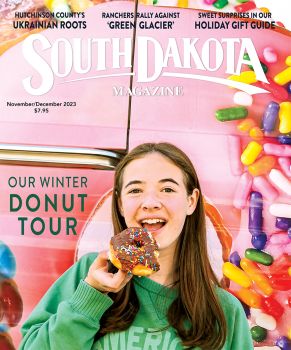 Subscriptions to South Dakota Magazine make great gifts!
Subscribe today — 1 year (6 issues) is just $29!

A Gem of Incredible Flavor
Apr 28, 2016
By Fran Hill
It is no secret that my husband and I love asparagus. We anxiously wait for those first sprouts in our garden, and Hubs' harvests from his wild asparagus hunts across the countryside are legendary. These green stalks are a staple of our spring and early summer menus.
However, Hubs has requested all area friends and family to locate another vegetable for harvest: horseradish. No South Dakota homesteader garden was complete without a clump of this leafy green plant. It grew well on the prairie, and the roots were pulled, grated, preserved in vinegar and used to create a flavorful sauce that complements numerous culinary creations. Our area is dotted with many original homesteads that still carry the remnants of life in those times. Hubs hopes to either find plants that he can transplant to our garden, or simply harvest some of the roots.
In addition to being a gem of incredible flavor, horseradish can also be considered one of nature's remedies. Cooler soil temperatures promote the pungency of the spicy horseradish, so early spring or fall and winter harvests provide optimal flavor. It is a happy coincidence that those seasons often plague people with allergies and colds. The aroma of freshly grated horseradish is a proven sinus clearer.
Horseradish is traditionally paired with beef, but I recently included our precious asparagus in a crispy hash with potatoes and onions alongside some pan-fried cod fillets. Of course, a creamy horseradish sauce was the perfect accompaniment. The recipe produces a mild flavored sauce, but if you like a spicier bite, you could add more.
---
Pan-fried Cod with Asparagus Hash and Horseradish Sauce
(adapted from Real Simple)
1/2 cup mayonnaise
3 tablespoons horseradish
juice of half a lemon
2-3 Yukon Gold potatoes, cut into 3/4-inch pieces
kosher salt
freshly ground black pepper
olive oil
1 medium yellow onion, sliced 1/4-inch thick
1 bunch asparagus, cut into 2-inch pieces
4 (6-ounce) skinless cod fillets
Whisk together the mayonnaise, horseradish and lemon juice until creamy and smooth. Set aside.
Cook the potatoes in salted water until fork-tender. Drain.
While the potatoes are boiling, heat a large skillet over medium-high heat and add a little olive oil. When oil is shimmering, add the onion slices and cook, turning often, until softened. Remove from the pan and keep warm. If needed, add a little more oil to the pan. Arrange the drained potatoes in a single layer in the skillet; season with salt and pepper. When the potatoes have browned on one side, flip to crisp on all sides. To the crispy fried potatoes, add the asparagus and return the onions to the pan. Cook, stirring until the asparagus is brightened in color and tender-crisp. Remove hash from the pan, and keep warm.
Add a bit more oil to the pan. Pat the cod fillets dry and season with salt and pepper. Cook, in batches, until opaque throughout, about 2-3 minutes per side.
Serve pan-fried cod with the hash, fresh lemon wedges and the horseradish sauce. (Serves 4)
Fran Hill has been blogging about food at On My Plate since October of 2006. She, her husband and their three dogs ranch near Colome.