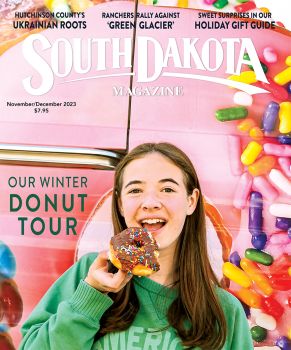 Subscriptions to South Dakota Magazine make great gifts!
Subscribe today — 1 year (6 issues) is just $29!

Dakota Duets
Spearfish folk singer Jami Lynn traveled the state during the summer of 2018, pairing with singers and songwriters from every corner of South Dakota in a web series called Dakota Duets.
Jami began to perform at age 13, debuting at community gatherings in the little town of Peever in the Glacial Lakes country of northern South Dakota. She majored in music at the University of South Dakota. She also studied and performed in Nashville, but her deep connection to our rural landscapes, people and culture of the Northern Plains called her home. That's good news for music fans who love her range of country, folk and jazz. She has quickly become one of South Dakota's most popular performers.
Thanks to a South Dakota Arts Council fellowship grant, Jami embarked on the Dakota Duets road trip. Six videos, one per month from April through September, were posted on the South Dakota Magazine website. You'll find the videos here, along with links to the original stories for each.
---
April 9, 2018 - Paul Larson
See the original story here.
---
May 16, 2018 - Thomas Hentges aka The Burlap Wolf King
See the original story here.
---
June 13, 2018 - Mike Linderman
See the original story here.
---
July 19, 2018 - Jake Jackson
See the original story here.
---
August 22, 2018 - Erin Castle
See the original story here.
---
September 19, 2018 - Derrick Lawrence
See the original story here.