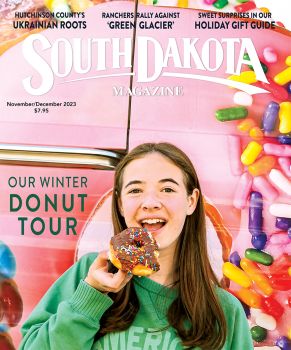 Subscriptions to South Dakota Magazine make great gifts!
Subscribe today — 1 year (6 issues) is just $29!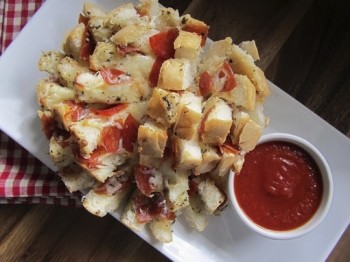 If Football Is Your Thing
Feb 1, 2012
I am not athletic. Back in gym class, I was the girl with the carefully forged note trying to escape the endless volleyball competitions. A few years ago when I challenged myself to attempt biking the Mickelson Trail Trek, I cried when I actually completed the three-day, 109-mile ride. I had never thought I would or could do something like that, and was seriously amazed that I had.
I am not even a spectator of sports. Force me to attend an area high school event, and I will probably be able to tell you more about people watching than the game. If the television is tuned to a sporting channel, chances are I am hiding out in another area of the house with a book or my laptop (or both).
However, media influences are telling me that some big football game will soon be the center of a lot of people's attention. Thankfully, this game seems to be just as much about the food as it is about pigskin. I do like food (surprise, surprise).
The Super Bowl will be welcomed here with a Pepperoni Pull-Apart Bread. A round loaf of sourdough bread is crisscrossed with cuts, stuffed with cheese and pepperoni, and then basted with herbed garlic butter before being toasted until melty and gooey. Perfect food for watching football, if that is your thing.
---
1 unsliced round loaf sourdough bread
8-12 ounces shredded mozzarella cheese (cheesier is better)
1 (3.5 ounce) package sliced pepperoni, halved
3 tablespoons butter, melted
1-2 cloves garlic, finely minced (or grated with a microplane)
1/4 teaspoon dried basil
1/4 teaspoon dried oregano
1/8 teaspoon paprika
2-4 tablespoons grated Parmesan cheese
pizza/marinara sauce for dipping

Preheat oven to 350 degrees. Carefully cut the bread in a crisscross fashion, lengthwise and widthwise, without cutting through the bottom crust. Place bread on a foil-lined baking sheet and stuff cheese and pepperoni between cuts. Combine butter, garlic, and seasonings. Drizzle over bread, coating the crust and any exposed cut edges of the bread. Sprinkle bread with Parmesan cheese. Wrap loaf completely in foil and bake at 350 degrees for 15 minutes. Unwrap and bake 10 more minutes, or until cheese is melted and pepperoni is a little crispy. Heat pizza sauce and serve on the side for dipping.
Fran Hill has been blogging about food at On My Plate since October of 2006. She, her husband and two dogs reside near Colome.