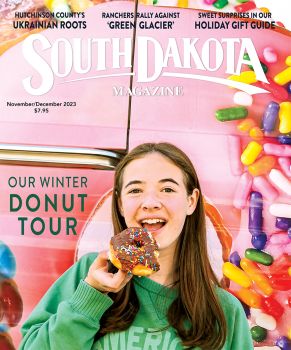 Subscriptions to South Dakota Magazine make great gifts!
Subscribe today — 1 year (6 issues) is just $29!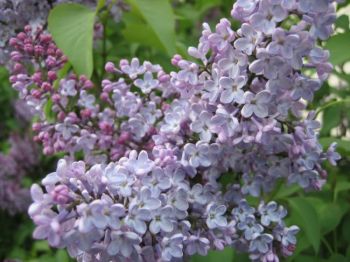 Confessions of a Lilac Thief
May 24, 2013
By Laura Andrews

In the spring, this woman's fancy lightly turns to thoughts of thieving. If the cops ever catch me in the act, my only defenses will be the season…and the irresistible aroma. I am enthralled by lilacs — a slave to those sweet, short-lived purple blossoms. Even though I know it's wrong, I cannot resist plucking them from bushes in Yankton alleys or on abandoned homesteads.
It's an urge I don't quite understand. I wouldn't dream of stepping into someone's yard and clipping peonies or tulips. What makes lilacs different? It seems as though they belong to everyone — or is that just a convenient justification for my crimes?
Perhaps it's the lilacs' ubiquitousness. I'd be hard-pressed to name a farm in my old neighborhood that didn't have a ring or a row of them — perfect for playing around or under — and there doesn't appear to be a lilac-less block in all of Yankton. Even if my husband, Mike, and I owned a lilac bush, I'm not sure I could resist the lilacs of others. When in full flower, they seem to reach out to me, luring me in with their distinctive scent.
I'd like to be able to pin my desire on a culinary pursuit. Did you know lilacs are edible? You can candy the flowers by painting them with egg white and dipping them in sugar or make jelly from the blossoms. I haven't tried either one yet — mostly because spring is also rhubarb season.
Though rhubarb patches are every bit as common as lilac bushes, they're not as tempting to my light fingers. Even though Mike and I have been eyeing the neighbors' rhubarb on our walks and have a rhubarb-stealing name for ourselves (the Night Stalkers, naturally), we haven't given in to the urge.
Luckily, Roger Holtzmann invited me to avail myself of the rhubarb out at his place. It must've been raised with care — my bucket filled up quickly with thick green and red stalks. With these spoils I made a deliciously messy pie and a batch of my favorite jelly. Nothing beats thickened, well-sugared rhubarb juice unadulterated with strawberries, herbs or other foolishness. Its delicate pink sweetness shines on slices of homemade bread.
---
Rhubarb Jelly

Wash rhubarb, and cut into chunks. Add to large pot, cover with water, and simmer 10-15, until soft. Pour the fruity mush into a large bowl lined with three layers of damp cheesecloth or a jelly bag. Tie the cloth closed, then hang it above the bowl and let the juice drip into the bowl. When the dripping stops, press gently, then discard the rhubarb fiber or save it for other purposes. (Mike makes muffins with it.) Measure the rhubarb juice and proceed with jellymaking.
5 cups rhubarb juice
1 box fruit pectin
7 cups sugar
Pour rhubarb juice into a large pot. Stir in pectin and bring to a rolling boil over high heat, stirring constantly. Quickly stir in the sugar, return to a rolling boil and boil for 1 minute. Remove from heat, ladle into prepared jars and can using the hot water bath method. Makes 8-10 half-pint jars.