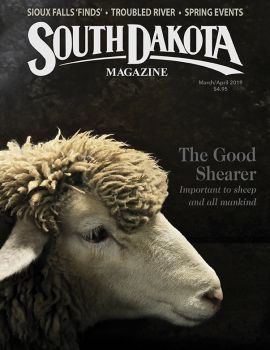 Subscriptions to South Dakota Magazine make great gifts!
Subscribe today — 1 year (6 issues) is just $25!

History


Redrawing our borders would have left us without the Badlands, Black Hills and Mount Rushmore.



South Dakota nearly lost our beloved poet's first Black Hills cabin.



Might a sculptor vindicate Sioux Falls' forgotten father?



Remembering a deadly storm on Big Stone Lake.



Who knew picking chokecherries could be so dangerous?



Alfred Ziegler's 30-acre self-serve salvage yard near Scotland attracted car restorers from all over the world.



Can we stop the illegal artifact trade?



Archie Gilfillan was South Dakota's sagebrush philosopher. His prairie wit en­tertained people in the ranching areas of Montana, North Dakota, Wyoming and South Dakota through the Great Depression.