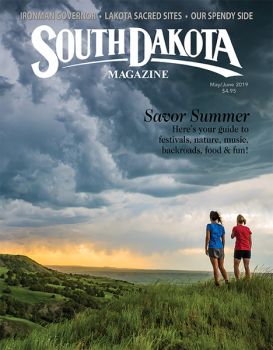 Subscriptions to South Dakota Magazine make great gifts!
Subscribe today — 1 year (6 issues) is just $25!


John Andrews
History Columnist
Our managing editor, web editor and history columnist is John Andrews, a Lake Norden native who attended SDSU, wrote for the Brookings Register and earned a master's degree in history at USD before joining our staff. John writes features, edits our many departments and oversees the day to day writing of the magazine.
« previous
1
...
4
5
6
next »

August 17, 2011
Civil War veteran Jacob Franklin Kinna has lain nearly forgotten in an unmarked grave in Yankton Cemetery for 118 years.


July 21, 2011
This weekend could be the last chance you'll ever have to see the two biggest pieces of gold ever found in the Black Hills side by side.


July 13, 2011
People believed for centuries that the earth was flat. Hot Springs businessman Orlando Ferguson thought it was "square and stationary," and believed it so vociferously that he delivered a series of lectures on the topic and printed maps to visualize his idea.


July 5, 2011
John Sutherland helped Pierre become the capital of South Dakota. Then he did it again. And again.


June 29, 2011
Every year, millions of people gaze upon the four faces at Mount Rushmore. Most visitors could tell you that Gutzon Borglum designed them. But almost nobody knows the Italian immigrant who gave them life.


June 23, 2011
Of the millions of summers the Black Hills have seen, the summer of 1927 was surely the most eventful – and perhaps cemented the region's status as the popular tourist attraction that it is today.


May 19, 2011
A Kennebec farmer shoots jaw-dropping time lapse videos of South Dakota's night skies.


May 12, 2011
Voracious Asian carp are slowly invading South Dakota's rivers and streams.


May 5, 2011
Photographer Paul Horsted of Custer sets the record straight about the myth of the 1874 Custer Expedition's buried treasure.


May 4, 2011
Norman Olson, a Langford native, writes to us from Colorado this week to tell us about Will Mann, a Day County homesteader and mechanic who helped build the world's first successful gasoline-powered tractor.


April 28, 2011
Even if you didn't grow up on a ranch, Slim McNaught's cowboy poetry is bound to make you crack a smile. We wrote about his CD Reminiscin' in our current issue. One of the tracks is called "Tom Cat Wreck." It's the story of how McNaught once got bucked off his horse when a cat jumped from the haymow and dug its claws into the mare. That's bad enough, but McNaught landed face first in a fresh cow pie. ...


April 27, 2011
Interesting historical tidbits from a 1930s South Dakota guidebook.


April 21, 2011
Perkins County rancher John Penor's historic photos of Bison, South Dakota are now available as an iPad application.


April 6, 2011
Every time I return to Brookings, it seems my alma mater, South Dakota State University, has changed. On my last trip there to gather stories for a feature in our next issue, I saw the new Jackrabbit Village residential complex.

« previous
1
...
4
5
6
next »