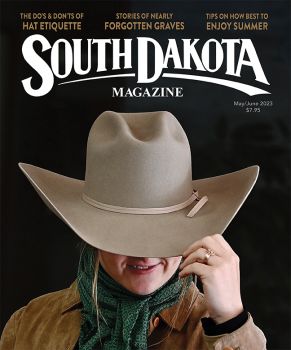 Subscriptions to South Dakota Magazine make great gifts!
Subscribe today — 1 year (6 issues) is just $29!

Columns

July 8, 2011
Today is the kick-off for the slowest procession on wheels — The Tri-State Iron Association's annual ride.


June 22, 2011
Raptor biologist Janie Fink released osprey near Yankton a few years ago. Now she's in Rapid City releasing peregrine falcons.


May 19, 2011
A Kennebec farmer shoots jaw-dropping time lapse videos of South Dakota's night skies.


June 17, 2011
I didn't need another hobby, but I found a new one last weekend in morel mushroom hunting. And it combines two things I already enjoy — hiking and eating healthy, unusual foods.


May 12, 2011
Voracious Asian carp are slowly invading South Dakota's rivers and streams.


May 5, 2011
Photographer Paul Horsted of Custer sets the record straight about the myth of the 1874 Custer Expedition's buried treasure.


April 27, 2011
Interesting historical tidbits from a 1930s South Dakota guidebook.


April 19, 2011
Many will remember Mar/Apr 2009's feature on Jane Fink Cantwell. Cantwell is the director of Birds of Prey Northwest, an Idaho organization devoted to helping raptors. She brought 20 young ospreys to Lake Yankton in the summer of 2008 and kept a watchful eye over them until the reintroduction program ended in 2010. Cantwell is now getting ready for the reintroduction of 15 young peregrines in Rapid ...